Hey all, I have a few posts stacked for you but I'm shoving it aside for…quite an announcement.
After 7 lovely years, HYPER is calling it quits.
HYPER is the gyaru circle that grew out of a group of friends that were interested in gyaru style, in 2009. We started as young and motivated gals meeting up with our circle members or creating meetings for the community. In the earlier years we teamed up with Shebooya to organize two international meets in Amsterdam. We have seen different faces in the community, different faces in the circle, around a steady core.
In recent years the circle was more invested in creating larger events, or well, helping Rox and Do in organizing larger events, but we would meet up as a circle less and if we did we wouldn't necessarily put effort into our style. Many of our members have grown out of gyaru, we are all in our mid 20's and have different priorities, and we can't always devote to the style nor the lifestyle anymore. And although HYPER has recruited in several stages, we never made up a hierarchy of generations and we didn't renew ourselves to eventually hand over HYPER to the next generation, so we knew from the start that HYPER would end after we graduate from gyaru ourselves.
Below, let me show you the faces of the cir in different times!
(May not be 100% chronological)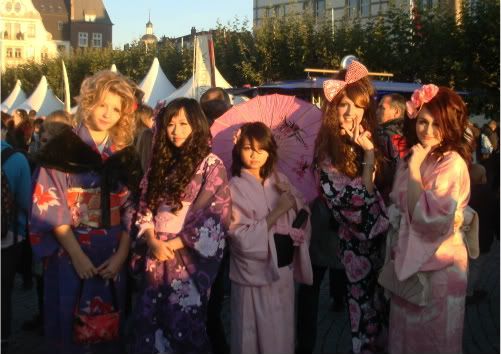 As you can see we often coordinated colors or style, it was really fun hanging out with the circle!
God I will miss these girls, I really hope we'll still meet up often!

Other highlights:
We got featured in GalVIP as a circle
Just to see the walk of life of this circle, let me show you our members' timeline!
Sorry I don't have fabulous graphics, I just screenshotted excel..
In some cases the start of the circle membership is a little vague as we were already hanging out so well this is a rough estimate, we didn't keep books~
For more info on HYPER, click one or more of these links:
FB page
Recent page
(will expire soon)
Old ass blog
Our life as circle members is over but we still love being involved with events and for that reason, in the line of HYPER gyaru circle we are moving on as an event team! This way we can keep organizing events, without stressing the gyaru element and the devotion that is linked with being a circle. We might not move on with the same members and this will not be so much about social ties and personal style but rather about catering to the dutch j-fashion community.