This is actually a urgent and very short post, but this is what I wanted to do with my blog when I just started it, so it's a little nostalgic! I'm going to recommend a store to you where I want you to go ASAP, if you're in the condition to go. Because I saw things that I can't buy right now, but I hope someone else can enjoy those things in my stead! I'm talking about this store, called Lennon (I couldn't find a page online but it seems there's a store called John in Osaka)
This is a store on Kyoto's Shin-kyogoku shopping arcade (paralel to Kawaramachi and Teramachi shopping arcade). It's near Olive des Olives, which you can't miss if you happen to walk there, between kyomiyage and La Musee.
I't's a small store with an ever changing inventory, sometimes it's super incoherent and sometimes they have complete collections from one brand...why? Because they're an outlet store! And right now they're selling a lot of items from earlier collections from
Lip-Service
, some stuff goes back to 2009 if I remember it correctly, so that's pretty oldskool Agejo they have going on right now! And all about 525 yen!!! YES
anything off the Lip-Service rack is 525 yen.
..that's like what? 5 dollars, 4 euros? Idk
The things were from several seasons but this was the most prominent style: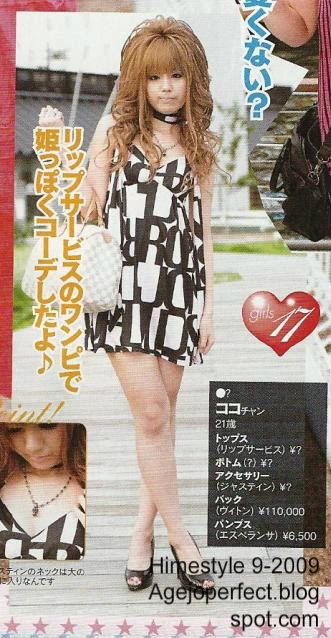 They had a few pieces of this exact dress in different colors.
I would have bought like 10 pieces myself but as my style changed a lot and I wouldn't feel comfortable in it anymore, I just bought one pair of leopard shorts...though I regret not buying the pants in that printed-style... ugh.... I should have known I would regret it, if I get to go back like next week I expect much of this stuff will be gone so you've got to be quick~!!!
They also had shoes standing around, so if you are into oldskool Agejo and you're in Kyoto for some reason, I WANT YOU TO GO TO THAT STORE FIRST THING IN THE MORNING..Please
They also have adorable pieces from Lilidia hanging right now, those prices vary from 1050 yen to 4200 yen or so~
And adorable shoes from Rojita (or was it Ingni?), pink suede booties with golden toes...
I wanted them so bad but they only had m-size ;~;
Who knows what they might have next?! Especially in/right after the sales~
If you happen to be in Kyoto any time, this store is super worth checking out~~