So I'm a bit late making a post about the Düsseldorf gal meet, but I have to do it now because I want all 'late' posts done before I go on vacation Monday night :)
First I wanna say I had a GREAT day at the Gal meet in Düsseldorf. I didn't talk to
too
many people but the people that came to have a chat were DARLINGS and I felt very welcome and it was a lot of fun :)
A lot of the pictures in this post were stolen from
Rox
and
Sui
's boyfriend Binh (who is a marvelous photographer).
Because Düsseldorf is in Germany and it takes a while to get there I got up early to do my hair and stuff. I'm sure you've seen the pictures of my outfit or more specificly, my heavily-accessorized hairstyle float around on FB and in group-shots on blogs and things, but it all started like this: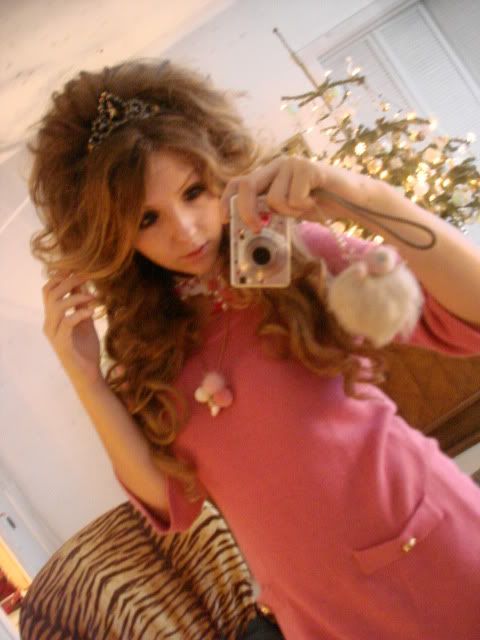 I was planning to put a ton of roses in there but when I was finished with making the hair(it worked out really well, I'm really proud), I was hesistant to cover it up with roses..but I did it anyway~~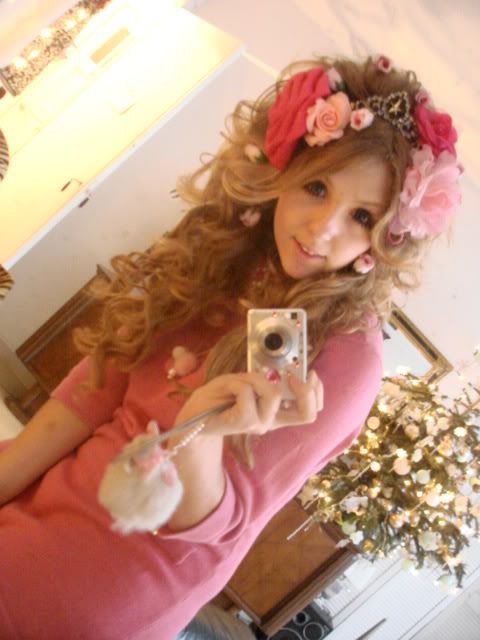 The outfit was something between Hime and a more Retro kind of look, but the overwhelming pinks everywhere and the massive hair kind of excluded that last option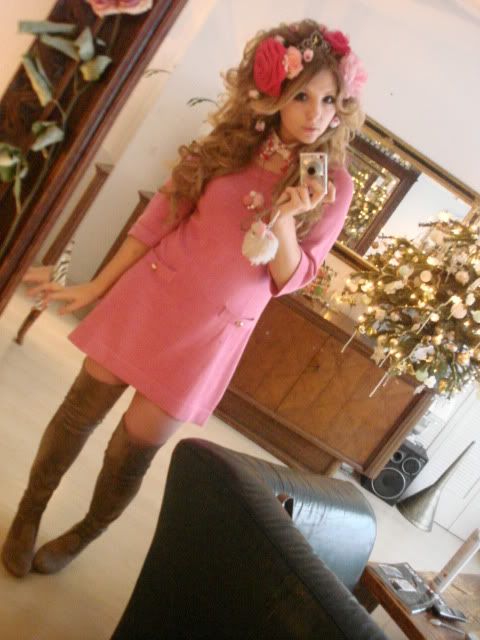 with my beloved coat:
Coat: E-bay
Dress: H&M
Boots: Cafe Moda
Collar: Handmade!! (I should've emphasised the collar more in the pictures because it's really what makes the outfit worthwhile)
Necklace: 100¥ shop
Tiara: Gift from Jerney
Roses: Pieces, Accessorize, market, Paris Kid's
I was really really proud of this outfit actually. I think this is kind of the way I want to look most of the time~~
I met up with my gals at Venlo station, last station before the border.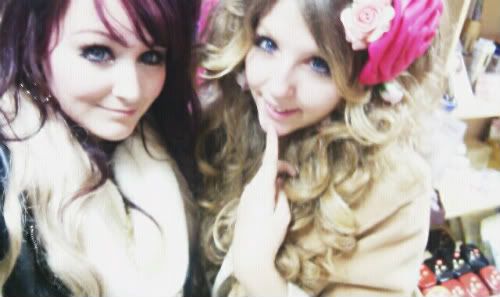 Together we went to Düsseldorf by train :)
We met up with the rest of the people in the station and walked to a cute Japanese shop that mainly stocked magazines, manga and books. (I spent a moment thinking about buying the one issue of Ane-Ageha they had sitting there, but I didn't, cuz I'm broke.)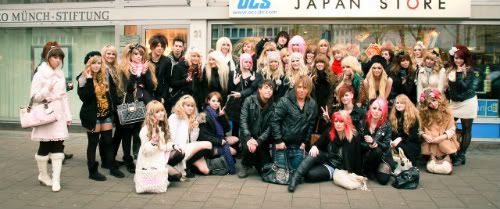 The real reason we went there was for the Puri machine :D In Düsseldorf we spent a LOT of time taking Purikura. I love Purikura and hardly ever get the chance to make them D:
some of the results: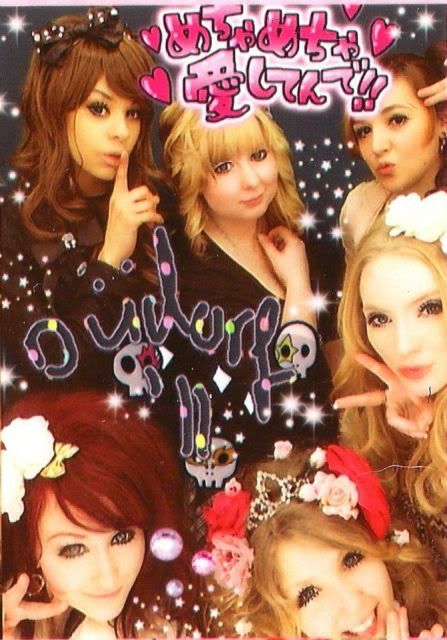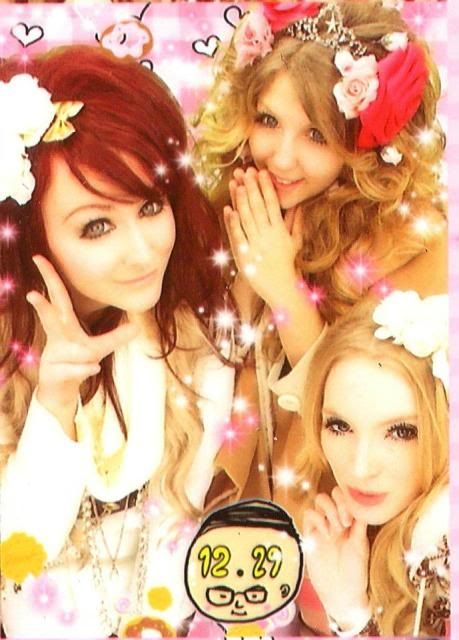 After spending a lot of time in the shop, the group split up and we went for dinner in a Mexican restaurant with Ari and other sweet gals :)
The restaurant also sold cocktails so the group rejoined us later to have drinks~~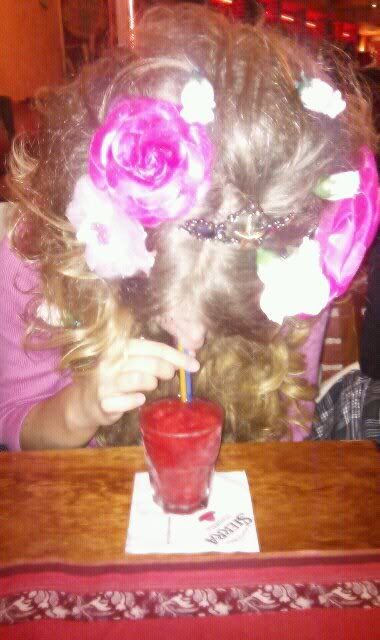 (I'm a squid drinking cocktails)
After taking a lot of fractured group-shots, my friends and I had to run to the station in fear of missing the once-in-an-hour-train (mainly cuz the guy from the restaurant needed a lot of time calculating etc etc).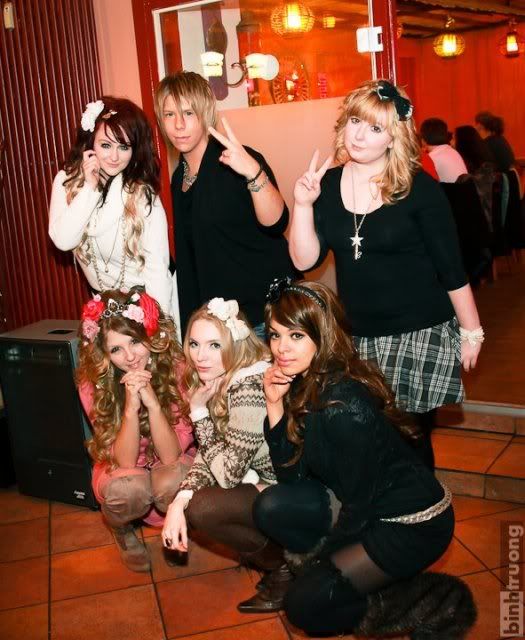 It was a great day and it really makes me feel motivated to keep up my style and I hope to join German meetings more often. I also hope some of the girls that don't live too far from the border might join one of our meetings one day :)