Previous issues:
2006/7
2008
So 2009 is an interesting year, lots of stuff came to pass that really made me feel more comfortable in gal style. I have great memories of that year :)
Because I think an increasing amount of the people will be farmiliar with 2009's gal style I won't be concentrating on that but rather on my own developments in that year. The pictures are scans from Betty and Hime-style 2009. These mags are a little less commonly uploaded (I wouldn't dare say there are no scans online of these issues but maybe...) so they might be interesting to some of you :)
2009 was the year my hard work was starting to pay off. I got especially much confindence after I won a theme-contest on
everyday_gyaru
which back then had monthly themes (that was a real post pusher for me, I really like themes).
The contest was to design a magazine cover with your face on it, I don't think I would participate in that kind of theme if it would come by now, because it would make me feel awkward but...such is the boldness of young age. So I participated, and surprisingly, I won :D I was really proud and that really inspired me to keep putting effort! the picture I used is visible in the march slot of the improvement meme.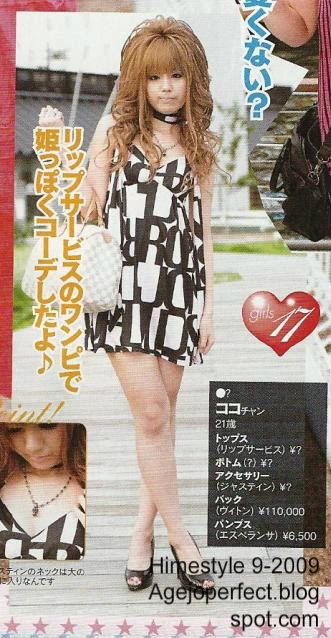 2009 is also the year I started looking for a gyaru-social environment. I was slightly farmilliar with some gals in the ParaPara subculture in the Netherlands but the problem is I didn't feel comfortable in ParaPara at all.
My prime motivation was to meet new people but in the end it were the people I already knew through my participation in Lolita culture, that joined in on the first Dutch Himegyaru meeting.
That meeting initially created the dutch Hime forum, evolving into
the dutch gyaru forum
. AND it was our motivation for starting our circle
HYPER
to enforce more gyaru themed events :) Even though the circle didn't really come into existence untill october that year, I daresay the foundation was layed in March.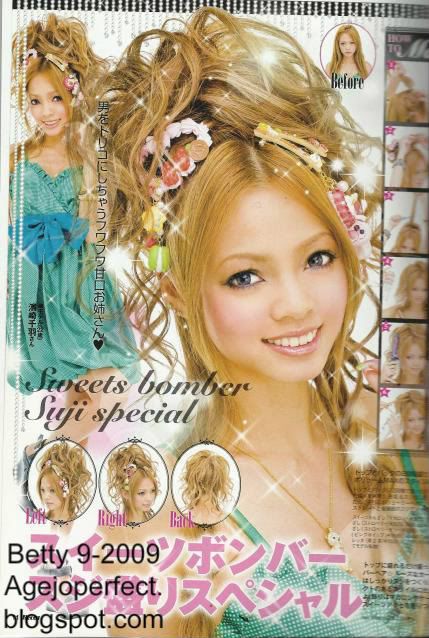 In the end of the school year (2009 was my last year of highschool) I caught pfeiffer's disease (also known as mono), which made me have all kind of minor illnesses like influenza and throat inflamation for little over a month. It also took away all my apetite and I lost almost 10 kilos (talking about an easy way to lose weight *_*).
Even though I wasn't in a condition to study hard I passed all my exams quite well and I put all my graduation money together, my mom doubled it and I could go to Japan for the second time! This time was with my kind of boyfriend at the time, he's a medical student from Fukuoka and we traveled around Japan together. We're still good friends but for both of us a long-distance relationship wasn't ideal.
I had the chance to really get mixed into gal culture, I fell in love with Glamorous Jane and I bought prisila extentions that really finished my look. The 2009 Japan trip kind of doubled my experience with gal style and it made me more and more enthousiastic!
It was also the year I started working on my eyebrows, first by coloring them with eyebrow mascara and later in the year I started shaping them with a tiny shaver.
Lizzie's
great innitiative:
The Gyaru Improvement Meme
.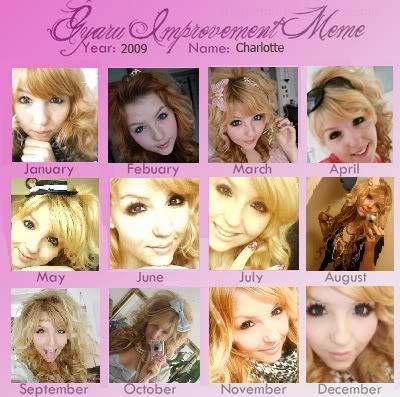 In my opinion 2009 was the best year for me, I felt great in gal style, I started my current study:
Japanstudies at Leiden university
. I still had the aim to improve but I did feel appreciated by the international community. I got a lot closer with my Gals from HYPER and I was generally just very happy.
You'll see in the next post that from 2010 onwards I got more and more anxious of 'degeneration' and the uncomplicated nature of my interest disappeared. It was also because my favourite style(Agejo style) became less and less popular since it's peak in 2008/9, that I started feeling slightly alienated with gal style...
NONETHELESS, this will be resolved! It's not like we're slipping into a depressing phase of fighting with nostalgia. Please look forward to the next post about 2010: deepening my friendship with
Rox
and meeting the international community :D