YES! Admit it, you were thinking about cheese when you read the title.
Well you're right, Gouda cheese is named after a place in the Netherlands where it's supposed to be made (but actually I don't think all the Gouda in the world is made in Gouda at all).
'Kaarsjesnacht' means (little)candle-night and it's called that way because in the city hall of Gouda, only candles will be lit that night. But nowadays, just that wouldn't be enough, so the whole town was a bustle of different kinds of activities entertaining the many visitors in town.
The main event was the mayor's speech at 19:00 and the lighting of the lights in the Christmas tree in front of the city hall.
This tree was in fact a gift from Gouda's sister-city in Norway, so many of the events that night included a Norwegian component to express gratitude to the generous giver. Like folk dancing in a Dutch and Norwegian style with traditional costumes of both nations (or rather: both localities, of Gouda and it's sister-town I suppose). A Drum-band in a Norwegian getup with a Norwegian flag etc.
It was the day after my conversation exam and my outfit was simple and warm:
Hat: shop in Kyoto
Coat: NewYorker
Sweater: Vence
Shawl: H&M
Pants: Market
Shoes: Primark
We went to Gouda by train and intended to eat something there, but the city was full of people and it was hard to find a place at a restaurant to grab a bite. Nonetheless we managed to get a great meal at a Greek restaurant.
This was how the square looked before we went for dinner:
But when we came out of the restaurant at about 19:20, this is how the square looked:
All the people with houses on the square dimmed their light down to a row of candles in front of their windows: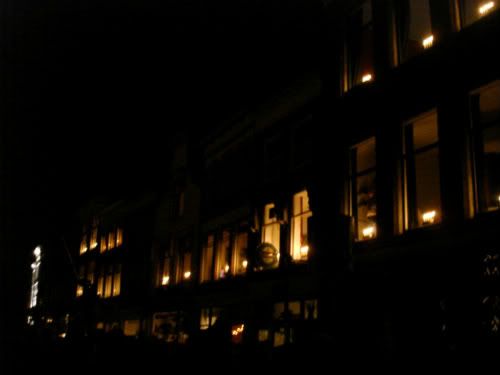 There was carolling and the mayor held his speech. Which BTW wasn't a very nice speech O_o
But when my toes were frozen and the clock struck 20:00, finally the lights on the Christmas tree went on :)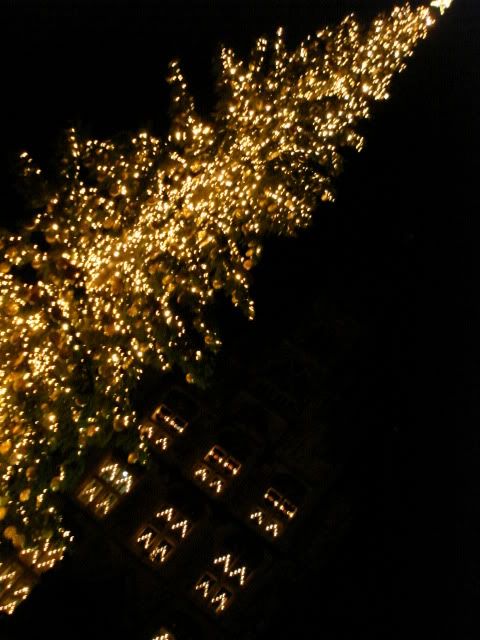 it was very cute, and after admiring the view, watching several big-bands and eating traditional donut-like cakes, we left Gouda and went back to Amsterdam.
I'll be honest with you, Gouda's tree is much nicer than that of Amsterdam. Ours has cold blue-ish LED-lights that look downright cheap~
Anyway it was a nice break from the exams for me, but I must be getting on :)