I'm a bad, bad girl making this post when it's technically not monday anymore :(
I had a great day over at Rox' place today! but now I'm here and I owe you some manba :D
In fact before I even started the challenge, I joined Rox in the challenge of doing manba style.
Rox is the creator of the Gyaru Challenge, and say anyone can give Gyaru Challenge a try, it's really..challenging XD
And secondly, the styles attempted in the Gyaru Challenge aren't my (new) personal style. I'm not claiming to perfectly copy a style or to be an expert, I'm just having a taste of everything :)
The Manba Challenge was given by Rivriv, who often gives sweet comments :)
You should check out
Rox' blog
because she's gonna post up some challenge results real soon too :D
When going for manba, I'd just go for the orthodox shape of makeup, because it suits my face and because it's just most obvious. Obvious is the way to go I think XD
Something that only gals that have known me from the beginning will know, is that in fact I started out gyaru as manba :) yep I did! Old gals from manba_room might recall, and I was on ricoche too :') good old times~
This was my second try ever at manba, from 2007: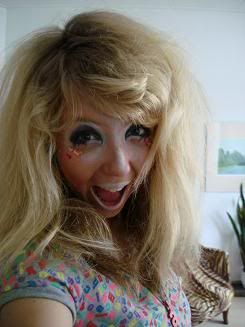 not the worst but...people in the comms back then were really helpfull and kind actually, to me anyway~
This was the last time I tried manba before now XD
I'm not sure when it was, I think 2008? this is also subject to a lot more editing XD mainly the color of my eyes, I had no lenses back then, and the sharpness of my make, I simply used some brushes to clean that up but shhh, our secret right?
The problem was I could never see manba as a serious style, it couldn't be more than cosplay for me. I had to move on to more a more suitable style for me.
Typically my manba idol was Egg's Ka-tan, who has been reader model in Ageha as Kanae, and I think I saw her in either Egg or Popteen again recently. She's that truck driver...you know? I'm sure some of you know. It's so typical that just like Kanae, my next step was to find my way to hime style...
I think I might put together a little personal style history so you can know a bit more about where I'm coming from..
Well anyway, next week's challenge: gyaru in all black!