Heyyy there, sorry for the long interval between posts this week, I've been surprisingly busy with 3 postings and a Kanji exam monday. And I'm behind on my translations AND a classic Japanese translation posting for thursday *_* and believe me, it's gonna get much worse.
A great time to tell you of our Osakan Adventure!
Rox and I decided to go to Osaka for the weekend of 15/16 January.
All decked out in our new Golds
We went there by Keihan Line if I'm right, this is a subway-like local train and it took little over an hour to get to Osaka. However, it costs less than 400 Yen one way so that was worth it~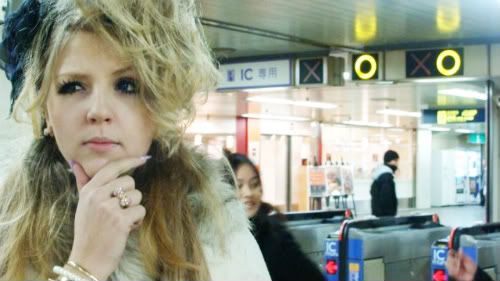 Sad for us, the weather was CRAP that day, rain and wind took us by surprise and I had the worst bad-hair day of my stay in Japan. Even though my hair wasn't that bad, I just felt uncomfortable with it as it was half straight but when it rains my hair has NO CHANCE of staying straight in WHATEVER condition.
Our first stop was bound to be Jesus Diamante in the Umeda Sky building...
but to make the disaster complete we found the store, after walking 15 minutes in half rain half snow and wind with my crappy umbrella, to be closed... yes.
How disappointed we were, after all our efforts.
We decided to take a subway down to Shinsaibashi and we walked up and down Shinsaibashi suji twice, taking purikura and finding
DUM DUM DUMM
The glico man!
And near the glico man we went for okonomiyaki.
Of course, one of Osaka's signature dishes, and it was delicious.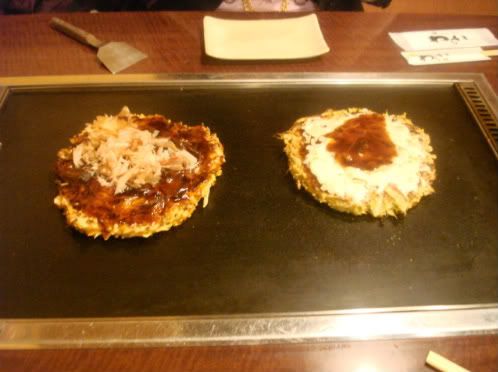 Then we waited for Beck and Noora to go out! But as we got so cold looking for a decent bar or club in the totally wrong place, we just hopped in a karaoke bar with semi-unlimited drink arrangement.
I'm not much of a drinker, I don't enjoy it specificly much and I don't think I'm too good at it, but Japanese drinks are so dull, even someone like me can drink an unlimited amount of them without too many concequences~
After Karaoke there was no way back (to Kyoto XD) and we continued our search for a good club and it took LONG and it was COLD and when we were about to go into a little rock bar because it was so cold, we found the perfect club just 5 metres further, on the other side of the street, called club Joule.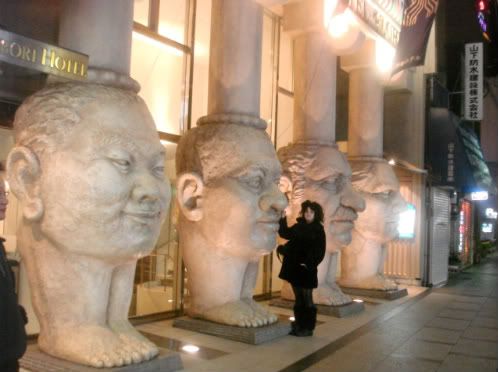 In there we found the crowd to be nearly EXCLUSIVELY gyaru and gyaruo. Personally I can say I had one of the best nights of my life. We got to throw balloons into the crowd~! The music was GOOD and so was the girls' hairsets.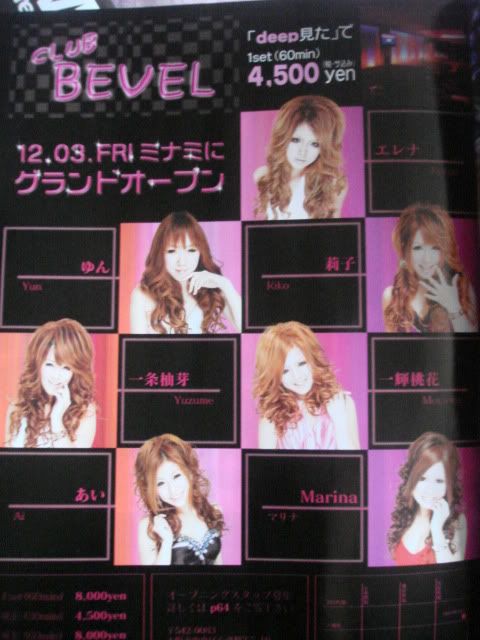 Because after admiring the hostesses' hairsets in Nanba, we could do nothing but be surprised at the hairsets of girls in the club, that remained light, poohfy and big throughout the night. I KNOW professional hairset will always be of superior quality and much more durable than self made hairset but on top of that Osakan hairset, to me, beats all hairset I've seen throughout Japan in my lifetime~
Osaka, origin of the suji hairstyle and hometown to Sakurina, produces such precise and smooth suji's and they are easily spotted among the enormous crowds walking down shinsaibashi suji. I wonder if the morishi tease at al, it looks like the strands flow naturally in their perfect curved line, from their base, on the subject's head, down, to create a pattern that seems to be calculated exactly, showing layers horizontaly and strands vertically to flow and cross exactly in a place as if it was supposed to be so. This might be caused by the precision with which all strands in one horizonal layer are facing exactly in the same direction and are parallel with the same distance between the strands and the same thickness of the strands.
What I think is essential to this style is sharp layered cuts that gals in Osaka have, maybe even more so than gals in the rest of Japan. This enables the curve of the strands to be exactly balanced in their lenth, and horizontal cut of the curve.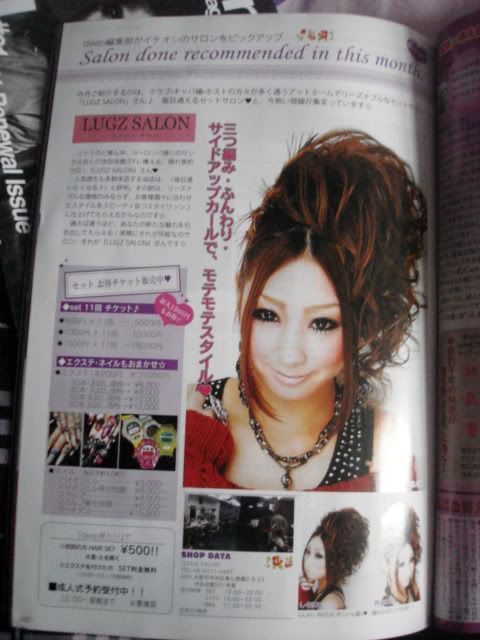 Osakan hairset is bigger and more flashy than any hairset I've seen and sadly Rox and I were too late to read how one set salon, called Lugz, offers sets for only 500 yen in certain hours of the day or on account of a coupon.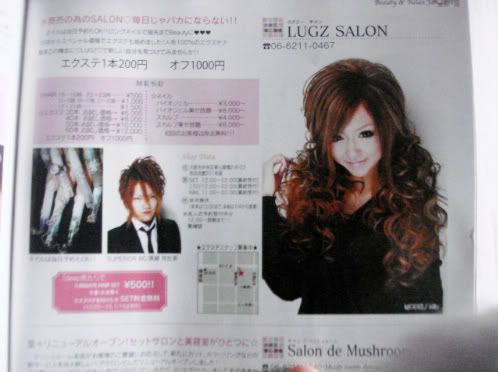 I've even been considdering to follow hairset college in Osaka oneday if my educational career srands me in Osaka (which I would REALLY like and put effort for).
All in all, the next morning we were DEAD and after breakfast at McDonalds we hopped on the train back to snowy Kyoto.
stole some pics from
Rox
.
mag pics from
Kansai Deep
club reference:
Club Joule