First I wanna say thanx to all the people that made this weekend sooo nice! All the girls that talked to me and also all of the organisation because they worked so hard to put such a nice event together!
Sadly, I'm not much of a picture taker and this time the camera was on the bottom of my bag but I hope to trace some pics here and there online.
Soooo, day one, I was soooooooooo nervous and I was worried to be late or something might be wrong picking up my tickets (haha whyyyy, I'm such a nerve-wreck, you will see in this post)
I started the day off with nails
But my tights broke and when I had to put new ones on, about half my nails fell off and I gave up.
I'm really not good at wearing nails and the glue I brought sucked balls~
On the way from the ticketshop to the eventcenter it started raining but luckilly I suddenly saw
Rebecca
there! Annnd, she said she recognised me from E_G and I was so happyyyyyy! And when her friends were ready they helped us find the event centre and we talked a bit, they are really sweet and I finally didn't need to feel nervous anymore.
Buuuut, anyway, we were there in time for the Yumachi & Aina Q&A. Even though it was all translated to Finnish, luckilly I picked up on some of the Japanese and Hisashi could translate for me so it wasn't in vain :).
Yumachi and Aina are sooo cute and I really wonder how Yumachi's hair stays perfect even after shaking her head or headbanging!
When the translator guy asked where all of us came from I tried to tell him I'm from Holland but what he heard was apparently something like...Estonia? or..Hungary? sooooo..I was sad and really shaky for talking so publicly XD
Buuuut, right afterwards the Fuji tv people (it was Fuji tv was it?, sorry if I'm wrong~) Came do a little interview with me so I felt encouraged and right after I ate a funny browny and talked to this really cute girl dressed from head to toe in JD!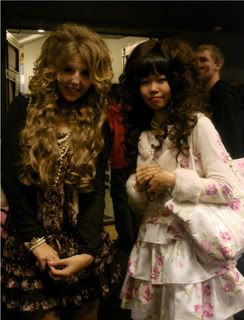 Annnnd, when we were sitting, waiting for the fashionshow Suddenly a bunch of really cute girls from
ViVACE
cir came to say hiiii!
They are (flrt)
Ella
,
Alina
and
Iisa
. and I was SOOOO happy you girls came to talk to me and I'm so proud to know you're my readerssss ♥
Annnd,
Monica
found me! I was happy to see her again and I could meet
Eilish
, who also met my
bestest amigo
somewhere last month was it? So I was reminded that the other part of my brain is missing and was a bit sad. And I met
Ingvild
and we looked similar! It's sad I don't have the picture of this myself because it's pretty cool but when I retrace pics later I will be spamming in some random post.
The fashionshow was really nice :D The girls did really well and I loved many of the outfits!
Sadly I had to study for my Kanji exam (which I think I did really badly :/ it's a sad thing u_u but everyone said it was tough, so not just me) and that night I didn't join any dinner or party or anything, I was at the hotel with my book ;;-_-
If I got any links mixed up please let me know!! I wanna get it right.
For day 2 I really don't have any pics, only my outfit :/ soooo I'll be trying to steal some (borrow) when I find any online so it might take a couple of days but it will come!