First of all I wanna say thank you to all the commenters on the last entry :D I feel very encouraged to go to Finland and I'm reaaaallly almost sure now that I'm gonna go.
In times like this (as in any time really) I wish I could install Disqus or some other commenting service, cuz I wanna be more interactive and things, but then I'll have to change my layout and I don't want to just yet, I'm still tired of the last time I editted my layout
The other day I had to convince someone of my interest in gyaru. This person was only seeing the SUPER OBVIOUS, kind of ganguro-ish things (I felt bothered :/)
So what I did was, I pulled my old JSG vest and tan powder out of the closet and this was the result.
Eyemake was twice as thick as mine is lately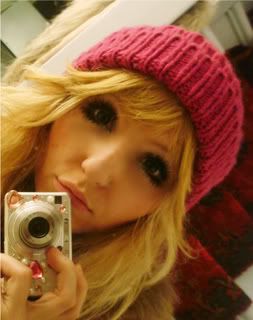 Sooo, person was convinced. I do want to use that vest thingy a bit more, I think it'll still work in a lot of black stuff..lemme work on it!
Oh! and I used my new eyebrowpencilll <3 omg I love it! I intended to take pics of my brows especially but the lighting was sucky so I couldn't use them for a report but JUST YOU WAIT