The other day I walked into the Japanese bookstore here to find the november issue of Ranzuki, and I bought it, because it was the only recent gal mag they had. Even though I have never looked into Ranzuki, I never bought it and only once downloaded it but I think it's pretty ok, it's like popteen in many ways.
Eitherways today I wanted to take a break off my essay and made this drawing by tracing the face of this model, Natsumi.
the colors didn't come out as well on the picture, cuz in real it's pretty bright..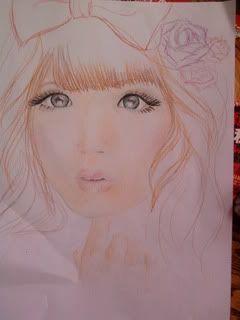 And as you can see Natsumi models for Diamond lash and here she is in their comercial thingie
I think this girl is soooo cute! not really all my style but soooo cute!
In case you haven't seen the Diamond Lash comercial vids yet, click the link to see the other 2. One with Ageha models and one with Chinatsu Wakatsuki.