This weekend we had a meeting here in my gorgeous hometown of Amsterdam :D organised by Shebooya circle. The meeting was innitially set up because Monica Tang from
monicatang.com
was visiting. So we met her, she's so cute and a really nice girl ♥
Rox and I planned to twin, even though our twin outfits somehow didn't really hit people's eye as much as we hoped (must be the fact our hair is so different)
I made both of our hairstyles, in fact they are supposed to be the same, but because when you work on someone else's head you can concentrate on the other 180 degrees, somehow the style became less poofy from the front, but a lot more gorgeous on the back, I'll display this later. Please look foreward to it.
Eitherways, view our heads and poof of doom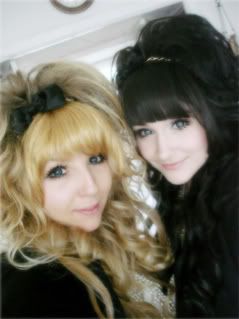 and our gorgeous nails Rox made for our twin outfit ♥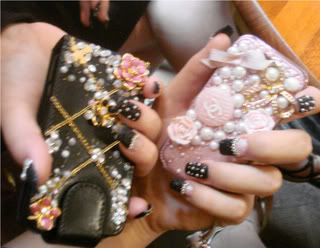 (and look at her deco omgggg)
We all went shopping and we went for dinner at Wagamama, where the manager was a great guy and he gave Rox a lot of info for when she's visiting Japan.
After that we took it to Arc for cocktails, sadly many people had to get away early to catch a train home and Monica was tired so she went to sleep rather, cuz the next day was beachmeeting!
Rox, Renate, Jessica and I stayed in Arc for a while and the girls crashed at my place afterwards.
I didn't take a lot of pics and I definetly don't want to steal other people's photos so heres a few pics of the HYPER members.