Ladies and Gentlemen,
Tomorrow my best amigo Rox is heading for Japanland!
in order to study textiles in Kyoto :)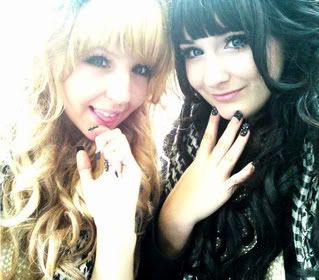 I will be missing my amigo in crime, Rox was one of the most if not THE most active gyaru in the Netherlands, she organized lots of meetings and she was the heart of our cir HYPER.
She is very good at finding things for galstyle in our normal dutch shops, aswell as finding bargains on eBay ;) The queen of eBay, or shopping in general, she was also great at makeup and deco! Especially making nails! She made some really nice nails for me, I like them so much but I'm scared to break them if I wear them ;~;
Her style became great over the last year.
And beside a great style stimulation, she is also a valuable friend to me, that was able to pick me up in times I felt kinda lonely.
I hope I've been of any use to you too Ed ;)
I know I will be missing this girl sooo much! But I'm trying my best to make it so that I can visit her in winter :D
For her updates from Japan, about her life there, and surely some style updates too :)
I suggest you visit
Rox in Japan