A little hairspam
Here's my friend Jessica when we were in the park
Jessica has the perfect length of hair and layers for making a suji style without too many complications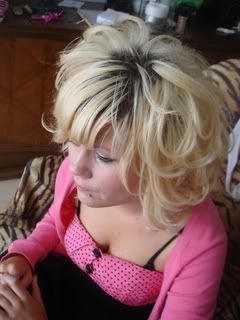 The following shots were too bright so I had to turn the saturation up a little which makes her hair appear a bit yellow, but it's not! her hair is gorgeous whiteblonde.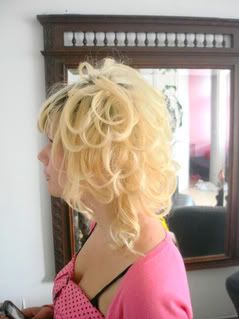 The point here is to use heated rollers (can't stress this enough) and taking them out one by one, teasing the hair and dividing it in strands (not too thin). After positioning the strands exactly the way you want them, spray them, you can still mould the curls the rollers produced, by just pulling the strands in the desired position and spraying it.
This is pretty much impossible to do to your own hair, or at least..at the back it's very difficult...
This is the style I made on
Rox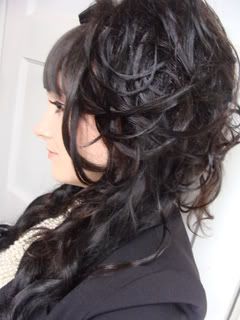 the discipline at large is exactly the same, but because Rox's layers are longer it comes out different (taller and falling more) than on Jessica.
Thank you Rox for the pics :D
My friends cherishingly nicked me the hairmeister, and if that's my name, that's something I want to live up to ♥
this is my own hair from the side
(lol @ dirty Ed in the background)
a lot more messy but very poofy. Like I mentioned before, it's because I can only concentrate on 180 degrees of my head (and I am in need of a cut), however I intend to perfect my selfmade style aswell as styles made on others..
People often ask me to make tutorials, and I do mean to, I just have to find the right occasion because for the moment, none of the requirements for making a tutorial can be met. All I can do now is say this: invest in heated rollers and get layered hair. The good thing about these rockhard sprayed styles is that you don't need to fear wind or even a bit of rain..
Now for some Charliewatching. Can you spot me?
Pic stolen from Juliette. sorry for stealing ;~;