Hey 52 followers :D
Also, thank you Tomo from
fuckyeahwesterngal
on tumblr for listing me :D I'm so flattered ♥
now this outfit
which doesn't seem that special, but I wanna basicly show you the use of good underclothes..(lilac is a too subtile color to point this out with, but I'm aiming on the lace top under the black top)
When I first got into gal I remember Egg was really stressing the use of bright colored triangle bikinis that peaked out from under some types of garments (In summer of course). Sadly a recent use isn't easy to find but here's one..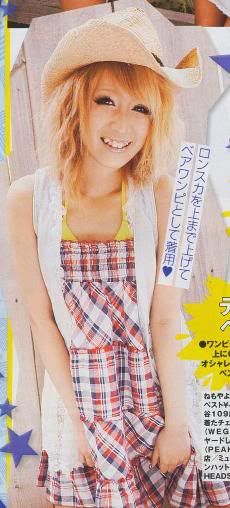 though not excecuted that nicely.
The Japanese seem to be trained in underclothes, even in the hottest weather you'll find them sporting a white tank or tee (or something in between) under their otherwize strapless or thin strapped garments. It might be the sun or they're scared of sexy or maybe it's just their culture wearing layers..but still, to me this is like socks in sandals, it really turns me off
Ma*rs on the other hand took it up a notch showing their bras rather.
(Last year's ma*rs) I love it, I just don't think I'd dare take it out of the bedroom.
Feels like I'm just pasting pics and building a story around them but what I'm trying to say is, undergarments, use them well U_U