Still messing with the layout, I don't have the 'expand widgets template' box and Rox told me it only works with her when she uses one of the standard templates..and since I refuse to give up my hardworked layout I'll let it be for a while, the purpose was to be able to reply to comments, I wanna talk to you guys! but for now I'll just do it in this way:
Firstly! thank you so much! Hana from
Finding Tokyo
for listing me in your weelky wrapup :D I'm honoured
Keely Valentine! About coolcat and whether or not they have a website, they do! coolcat.nl. it has an online shop but it doesn't list that many and not the most interesting pieces.
To color the post, here's some pics of things I came across lately
kind of like the MA*RS print with the zebra and roses like that (local store)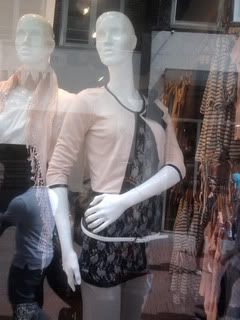 I just love that cardigan thing too much, I just love that color ♥ (Vero Moda)
THIS, they had an even cuter one, kind of tunic like with the same print, but when I asked for the price they said, "that's 89, wait is this the short one? the short one is 69" and that's a bit much for this..it's just not worth it.
sad though, I'd have done it for half that price and it would be perfect in winter with that print. (market)