FINALLY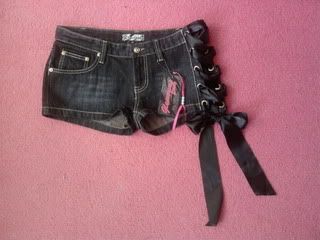 I hunted these shorts down after being as stupid as not to buy them the time I saw them first, ever since, I've mobilized lots of people to check their local Coolcat or Wonder Woman to find them for me, myself I've checked 4 more of their locations here in Amsterdam, in Rotterdam and in Amstelveen. Rox and Josephine have put enormous efforts for me to obtain these but finally, today I made a call to Schiphol airport's Wonder Woman and they reserved an M for me, even though I always play it safe and grab an L, this was what they had left and this is what I tried on, fit and bought. And this time, half price <3
The picture shows a little pale but the stitches are gold, so are the rings on the ribbonside and the button is gold with a big rhinestone in the middle. It's dark denim with sparkles! I'm so happy they're finally mine <3 I'll go out tomorrow to buy several colors of ribbon (well, pink and lavender) to be able to replace that every now and then.
And also, kudos to Coolcat, they have a lot of great items, they're really worth the visit, they also had a type of dark denim shorts with gold stitches which was a little longer (down and up) with a crossed lace back.
I hardly ever go in their stores but from now on I'll be paying them visits all the time.