Even though I'm really busy and all, exams coming up, I had to go shopping for one afternoon, I had to get some stuff I promised myself. Sadly the scarf I was looking for was gone ;~; but instead I decided to buy this necklace anyway. The RI one with the crosses. It was either this or the substitute scarf I found (really cool big one with letters on it, it was a nice scarf but just not what i was looking for, I wanted something more..raw, this was more...onee)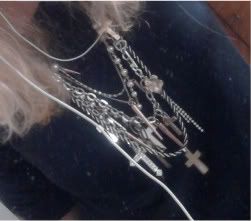 And since I wanted this necklace for months already, I got it. It's not the same one I posted here before but quite similar. I'm really really happy I got it! it fixes simple outfits and it jingles sweetly on my chest haha. I might be able to pin it in my hair or on my hip as a chain thingy..
Speaking of River Island, it's my favourite store and I just can't help myself to tell you about this necklace <3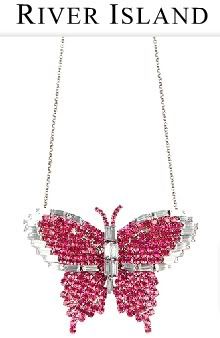 it's not too big and not too small, it's just kind of sad the chain isn't gold..
and I fell in love with their ornamental headbands that come in styles from floral to rock and marine to plain SHINY. But I'm broke ;~;
As I went shopping I also came across this in NewYorker: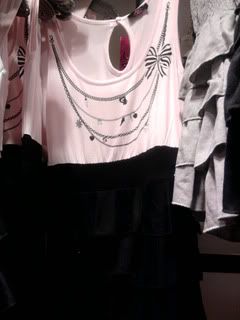 The picture is kind of dark but the lower part is this layered skirt kind of thing, it goes halfway down the thigh I think..
I just had to share it because I think it'd be GREAT for girls that chase that cute, sweet look. With a berret and fluffy curls or something :) And a cute little blazer and pumps..